Product detail
Ingredients
How to use
Warnings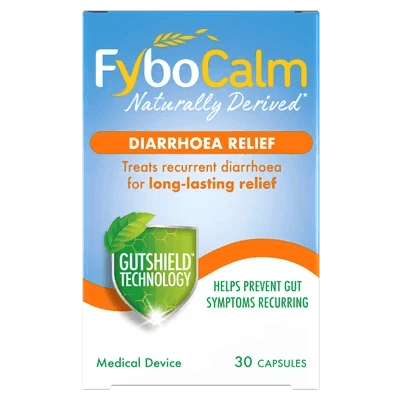 FyboCalm Diarrhoea Relief Capsules are a medical device intended to help restore intestinal function in those suffering from Irritable Bowel Syndrome (IBS) symptoms. The capsules help to relieve and prevent symptoms such as chronic or relapsing diarrhoea, abdominal distension, pain, bloating and flatulence.
The unique Gutshield™ technology combines Xyloglucan and Pea Protein to form a protective layer on the walls of the intestine. The formulation, thanks to its prebiotic properties, helps stimulate growth of health-promoting bacterias such as Lactobacilli and Bifidobacteria.
Helps relieve and prevent IBS-related diarrhoea symptoms recurring
Naturally treats recurrent diarrhoea for long lasting relief.
Forms a protective layer to soothe, strengthen and promote the restoration of gut lining.
Naturally derived†.
†Functional ingredients: Xyloglucan (derived from Tamarind Seeds), Pea Protein, Grape Seed Extract and Xylo-oligosaccharides.
Each FyboCalm Diarrhoea Capsule contains Xylo-oligosaccharides, Pea Protein, Xyloglucan, Grape Seed Extract, Magnesium Stearate (vegetable origin) and Amorphous Precipitated Silica. The capsule is composed of Hypromellose and Titanium dioxide.
For adult use only (18 years and above).
Depending on the severity of symptoms take 1 or 2 capsules twice a day (in the morning before breakfast and in the evening before dinner)
Swallow the capsule with liquids.
For maximum benefit use for 2 weeks, the treatment can be maintained if needed.
Consultation with a healthcare professional before using the product is not necessary. However, such consultation is advisable in case of severe or persistent symptoms or when there are doubts on the diagnosis, mainly in elderly people.
If taking any medicines, it is recommended to consult a healthcare professional.
It is recommended that the product is not used during pregnancy or breastfeeding. In either case, always consult your doctor beforehand
Do not use the product after the expiry date printed on the package.
For a full list of warnings, see the information leaflet.
Do not take if:
You have known hypersensitivity to any ingredient of the product listed in the composition.
More Products from FyboCalm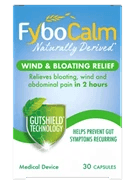 FyboCalm Wind & Bloating Relief Capsules
Helps relieve and prevent your wind & bloating symptoms recurring

Relieves wind, bloating and pain in two hours 

Use for 5-10 days, depending on symptoms 

Gluten free and Lactose free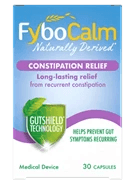 FyboCalm Constipation Relief Capsules
Helps relieve and prevent your IBS related constipation symptoms recurring

Long lasting relief for recurrent constipation due to IBS 

Gluten free and Lactose free